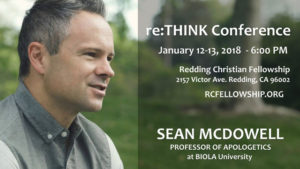 Redding Christian Fellowship is excited to invite you to our 2nd Annual re:THINK Weekend at Redding Christian.
For 2017's conference we were privileged to host Dr. D.A. Carson, New Testament scholar and professor from Trinity Evangelical Divinity School and co-founder of The Gospel Coalition.
For 2018 we are excited to host Dr. Sean McDowell as he shares his passion for apologetics and capturing the hearts and minds of the next generation to think both critically and Christianity.
You are invited to participate in two nights of teaching and inspiration with Sean, Friday, January 12, from 6-8PM and Saturday, January 13, from 6-8PM. Please note that this is a free event.
Using his zeal for apologetics, Sean is masterful in putting "stones in people's shoes" and to have them question their presuppositions about the ultimate questions people have in a winsome and thoughtful way. During this two-evening event, Sean will share the importance of living from a biblical worldview and how to winsomely and effectively engage a culture that is increasingly hostile towards modern day Jesus followers. Additionally, there will be a time for Q&A, which will be a brilliant opportunity for your skeptical friends to have their questions answered. We'd love to have you join us!